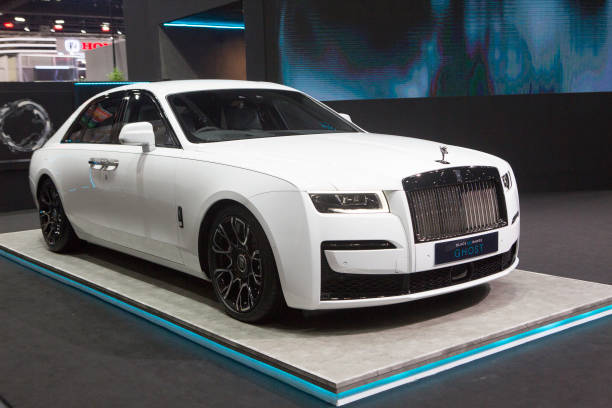 Rolls-Royce is best known for its luxury cars, which are hand-built and renowned for their quality and craftsmanship. Rolls-Royce cars are often used by royalty and dignitaries, and they command a high price tag.
In recent years, Rolls-Royce has also become known for its cutting-edge technology, which has been used in everything from jet engines to electric cars. With a long history of excellence, it's no wonder that Rolls-Royce cars are some of the best in the world.
The Average Price of a Rolls-Royce
The average price of a Rolls-Royce is $300,000 to $535,000. Rolls-Royces are known for its luxury features, craftsmanship, and prestige.
The cars are hand-built and take about 400 hours to complete. Rolls-Royce offers a variety of models, including the Ghost, Wraith, Dawn, Cullinan SUV, and Phantom.
The Phantom is the most expensive model, with a starting price of $455,000. The cheapest model is the Ghost, which starts at $300,000. For those looking for a truly luxurious experience, a Rolls-Royce is hard to beat.
Rolls-Royce Phantom Price
The latest model of the Rolls-Royce Phantom is the most expensive ever, with a price tag of $460,000. The reason for the increase is the Phantom's extensive list of features, which includes a powerful V12 engine, an air suspension system, and an opulent interior trimmed with the finest materials.
The interior is appointed with the finest materials, and the exterior has a sleek and timeless design. For those who can afford it, the Phantom is the ultimate status symbol. But for most of us, it remains a distant dream.
Rolls-Royce Ghost Price
The Rolls-Royce Ghost is a luxury sedan that starts at $343,000. The base model comes with a 6.6-liter V12 engine that produces 563 horsepower.
The Ghost also comes standard with all-wheel drive, automatic adaptive suspension, and a panoramic sunroof. Additional features include an infotainment system with navigation, a surround-sound audio system, and heated and cooled front seats.
For those looking for even more luxury, there are a number of optional extras available, including an extended wheelbase model and a bespoke interior package.
Rolls-Royce Wraith Price
The Rolls-Royce Wraith is a luxury car that starts at $343,350. It has a V12 engine and gets an EPA-estimated 13/21 mpg city/highway.
The Wraith has standard features that include heated and ventilated front seats, massaging front seats, a panoramic sunroof, LED headlights, and heated outboard rear seats. The Rolls-Royce Wraith comes with a four-year/unlimited mileage warranty.
Why are Rolls-Royce Cars so Expensive?
Rolls-Royce cars are handmade, meaning that each one is unique. In addition, they use only the highest quality materials, and their engines are some of the most powerful on the market.
They also feature a number of luxury amenities, such as heated seats and massaging seats. Rolls-Royce has a reputation for being one of the most reliable car brands on the market, meaning that you can be sure that your investment will last for years to come.
How Much Does It Cost to Rent A Rolls-Royce?
The cost of renting a Rolls-Royce varies depending on the rental company, the length of the rental, and the renter's age.
While the base rental rate for the Wraith starts at $1,500 per day, the security deposit can range from $1,500 to $3,000 depending on the renter's age. That said, the final cost of renting a Rolls-Royce will vary depending on the specific vehicle and rental company that you choose.
Exotic automobile rental rates are typically between 0.5 and 1 percent of the vehicle's MSRP. For example, if the MSRP of the vehicle is $200,000, the daily rental rate would be between $1000 and $2000.
What Makes Rolls-Royce so Special?
What sets Rolls-Royce apart from other luxury brands is its commitment to excellence. Every detail of a Rolls-Royce is designed to provide the utmost in comfort and style, from the hand-stitched leather seats to the shimmering chrome accents.
Whether you're looking for a stately sedan or a stylish convertible, Rolls-Royce provides an unmatched level of quality and refinement.
Is Rolls-Royce the Most Luxurious Car?
Absolutely yes, Rolls-Royce is the most luxurious car. Rolls-Royce has been making luxury cars since 1904. Nearly all of their available models are priced above $300,000.
They offer unmatched levels of customization, with features that include hand-crafted wood interiors and Monogrammed headrests. They also offer a bespoke service, which allows customers to design their own car from scratch.
Rolls-Royce also manufactures aircraft engines and marine propulsion systems. Their products are used by some of the world's most prestigious brands, including Boeing, Airbus, and yacht maker Sunseeker.
Is Rolls-Royce a Good Car to Buy?
Rolls-Royce is definitely a good car to buy if you have the money. The Rolls-Royce Cullinan is the most expensive SUV on the market, starting at around $325,000.
That's a lot of money, but you get a lot for your money. The Cullinan has a 6.7-liter twin-turbocharged V12 engine that produces 563 horsepower and 627 pound-feet of torque. It can go from 0 to 60 mph in 4.8 seconds and has a top speed of 155 mph.
It also has a luxurious interior with leather seats, wood trim, and an infotainment system. If you're looking for a luxurious and powerful SUV, the Rolls-Royce Cullinan is definitely worth considering.
Why Rolls-Royce Is Not Sold to Everyone?
The company's founder, Charles Rolls, believed that only the best should be good enough for his customers. As a result, Rolls-Royce cars are known for their quality, luxury, and exclusivity.
Today, the company produces some of the most expensive cars in the world, with prices starting at around $250,000. Given their high price tag, it's not surprising that Rolls-Royce cars are not sold to just anyone.
In order to purchase a Rolls-Royce car, prospective buyers must first prove that they can afford the vehicle. Additionally, they must also be prepared to meet the high standards of service and maintenance that are required to keep a Rolls-Royce car running properly.
For many people, the cost and hassle of owning a Rolls-Royce car simply aren't worth it. However, for those who can afford it and are willing to commit to maintaining the vehicle, a Rolls-Royce car can be an impressive status symbol.
What Is the Lifespan of A Rolls-Royce?
Rolls-Royce is a luxury car that is known for its quality and durability. But what many people don't realize is that Rolls-Royce cars are also built to last.
In fact, many Rolls-Royces last for 70 years or more. This is due in part to the fact that Rolls-Royces are made with high-quality materials and are built to last.
Rolls-Royces are regularly serviced and maintained, which helps to prolong their lifespan. The bottom line is that if you take care of your Rolls-Royce, it will likely last for many years to come.
How Much Is the Most Expensive Rolls-Royce?
The 2021 Rolls-Royce Boat Tail is the most expensive Rolls-Royce ever made. It is priced at a whopping $28 million. The Boat Tail is a one-of-a-kind car, and it is the only one of its kind in the world.
It has a 6.75-liter V12 engine that produces 563 horsepower. The car also has a top speed of 250 km/h and can go from 0 to 60 mph in 3.7 seconds.
The interior of the car is equally luxurious, with hand-stitched leather seats and an infotainment system that features a 21-inch screen.
Is a Bentley More Expensive than A Rolls-Royce?
Rolls-Royce and Bentley are two of the most luxurious and well-known car brands in the world. Rolls-Royces have long been considered the pinnacle of opulence, while Bentley has a reputation for performance and speed.
So, which brand is more expensive? Rolls-Royce cars are far more expensive than Bentleys. Rolls-Royces start at around $300,000, while Bentleys begin at around $200,000.
Rolls-Royces are also more exclusive, with only a few hundred models produced each year. Because of this, Rolls-Royces typically hold their value better than Bentleys.
What Is the Cheapest Rolls-Royce Model?
The cheapest Rolls-Royce model is the Ghost, which starts at just over $314,000. The Ghost is a smaller, more compact car than some of the other Rolls-Royce models, but it still features the luxurious materials and craftsmanship that are synonymous with the brand.
The Ghost is powered by a twin-turbocharged V12 engine, and it comes standard with features like leather upholstery, an infotainment system, and adaptive suspension.
For those who want an even more affordable option, Rolls-Royce also offers a "goodwill" program that allows customers to purchase a pre-owned car at a significantly reduced price. Under this program, all of the proceeds from the sale go to charity.