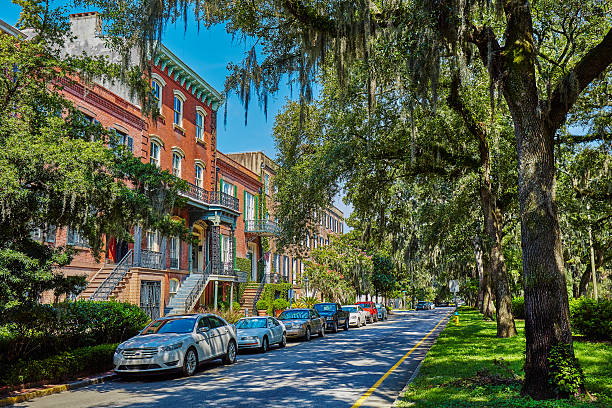 Are you ready to embark on a new adventure in Georgia but wondering where the most expensive cities are? Discovering the cost of living in different cities can feel overwhelming, especially with so many factors at play.
That's where this blog post comes in handy; we'll be breaking down all you need to know about living expenses in some of the top cities in Georgia.
In our comprehensive guide, we dive deep into various aspects that impact your costs such as housing prices, utility bills, transportation fees, and groceries.
You'll learn which areas offer luxurious amenities worth splurging for and which provide budget-friendly options without compromising the quality of life.
We understand how daunting it can be to move to a new city and not know what to expect financially. Therefore, we aim to be your go-to source for everything related to the most expensive cities in Georgia- enabling you to make informed decisions when planning your next move.
So sit back and let us take you on a journey through Georgia's priciest destinations- giving you insights that will make all the difference!
Most Expensive Places to Live in Georgia
1. Milton
Milton, Georgia is a stunning town with a population of around 39,252 people. This gem in Fulton County is considered one of the most expensive cities to live in in Georgia.
The reason for this high cost comes from its median home price of $857K which makes it quite an investment to settle down here. But don't let that scare you away!
Milton offers top-notch schools and exciting parks for recreation, making it an ideal place for families. Residents enjoy the small-town charm while still having access to everything Atlanta has to offer.
High-quality education and its prime location are some factors contributing to Milton's pricey lifestyle; however, many see it as worth every penny for the excellent community they join.
2. Brookhaven
Brookhaven, Georgia has become one of the fastest-growing and most affluent cities in the state. With a population of around 54,727 people, this northern suburb of Atlanta offers residents an attractive blend of small-town atmosphere and big-city amenities.
One reason for its high cost is the median home price of about $690K. Despite the housing market is quite pricey compared to other areas, Brookhaven doesn't disappoint with its top-rated schools and low crime rates.
The city also boasts many parks and green spaces for families to explore together. Known for incredible dining options and fabulous shopping experiences, it's no wonder that Brookhaven ranks high among expensive cities in Georgia while still offering plenty to appreciate for those living there.
3. Sandy Springs
Sandy Springs in Georgia, with its population of around 108,180 residents, is frequently praised as an amazing place to live. However, this lovely city also happens to be on the list of the most expensive cities in Georgia due to high living costs.
The median home price here is about $680,000, which can seem quite steep for some families. But don't let that discourage you! Sandy Springs residents enjoy exceptional schools and exciting activities for kids – making it a fantastic place to raise a family.
With friendly neighbors and beautiful outdoor spaces like parks for recreation, life in Sandy Springs becomes even more attractive. Easy access to Atlanta and excellent local amenities are just some reasons why people choose this expensive but outstanding city as their home.
4. Blue Ridge
Nestled in the majestic North Georgia mountains, Blue Ridge is a charming small town known for its breathtaking scenery and welcoming atmosphere. Although living in this beautiful area comes with a price tag, many residents feel it's worth every cent.
With a median home cost of around $660K and a population of about 1,168 people, housing costs are higher than average. However, outdoor enthusiasts adore the wide variety of activities available such as hiking, biking, fishing, and camping in the nearby hills and forests.
The lively arts scene featuring galleries and theaters showcasing local talent adds even more appeal to Blue Ridge's high-cost lifestyle.
Boasting stunning views combined with friendly neighbors make Blue Ridge an expensive but appealing option for those seeking both natural beauty and community spirit.
5. Johns Creek
Johns Creek, Georgia, with a population of approximately 84,551 people, is a city that consistently ranks high as one of the best places to live in the country. However, it's important to keep in mind that living here can come at a high cost.
The median home value is around $650K and the cost of living is 129.7% higher than the national average. Despite these numbers, Johns Creek remains an attractive place for families due to its excellent schools and safe environment.
With plenty of parks and recreational activities available throughout the city, it's easy to find ways to enjoy leisure time together.
While pricier than other locations in Georgia, Johns Creek offers an exceptional quality of life for residents who appreciate all this thriving community has to offer.
6. Alpharetta
Alpharetta is a vibrant city located in Fulton County, Georgia. With a population of around 66,566 people, it's known for its prosperous business community and high-tech companies.
However, this progress comes with a higher cost of living compared to other cities in the state. The median home price in Alpharetta stands at $650K and the cost of living index is 124.8%.
Despite this hefty price tag, many families find Alpharetta desirable due to its excellent schools, safe neighborhoods, and attractive parks for outdoor activities.
Boasting fantastic restaurants and shopping venues to explore makes life in Alpharetta even more enjoyable. Though more expensive than other areas in Georgia, residents are drawn to this thriving city rich with opportunity and recreation options perfect for all ages.
7. Dunwoody
Dunwoody, Georgia is a beautiful suburb located just north of Atlanta with a population of around 49,466 people. Known for its friendly atmosphere and excellent schools, this city has become an attractive place to live despite being one of the more expensive areas in Georgia.
Dunwoody's median home value falls at $640K and has a cost of living index of 132.2%. Part of what makes it so appealing is the wealth of things to do including visiting Perimeter Mall or exploring the captivating Dunwoody Nature Center.
With easy access to major highways, residents can enjoy both small-town charm and big-city amenities without traveling too far from home.
While it may be pricier than other cities in Georgia, many find Dunwoody worth the extra expense considering all its fantastic offerings for families and professionals alike.
8. Roswell
Roswell, Georgia stands out as a popular choice for families, with its population of 94,884 people offering an ideal mix of community spirit and modern amenities.
However, it's important to note that Roswell ranks among the more expensive cities in Georgia. The median home price in this city is about $610K and the cost of living index is 125.5%.
While housing costs are higher than average, residents of Roswell benefit from an excellent education system and a low crime rate. Numerous parks provide ample opportunities for outdoor recreation and leisure activities within the city's borders.
With great dining experiences and picturesque surroundings close by, many families find Roswell to be worth the investment even though it might come with a slightly higher price tag compared to nearby areas in Georgia.
9. Tybee Island
Tybee Island, Georgia, is a quaint barrier island located just 18 miles east of Savannah. Often known as the "Jewel of the Coast," this charming destination has a population of around 3,094 people and offers beautiful white-sand beaches alongside crystal-clear waters.
However, living on Tybee Island comes with a higher cost than other areas in Georgia, presenting a median home price of $590K and a cost of living index at 125.7%.
Outdoor enthusiasts can enjoy activities like fishing, kayaking, or paddleboarding while exploring the island's diverse wildlife.
Despite its expensive nature, Tybee Island's laid-back atmosphere and unique attractions make it an appealing place to live for those who desire coastal beauty blended with small-town charm.
10. Greensboro
Greensboro, Georgia is a delightful small town nestled in the heart of the state. It has a population of around 3,350 people and offers an appealing mix of rural serenity and vibrant community life.
However, this idyllic setting comes with premium living costs compared to other regions in Georgia, as the median home price stands at $580K and has a cost of living index rate of 122.9%.
Surrounded by picturesque countryside environments and boasting numerous local businesses for employment opportunities, Greensboro remains attractive even though more expensive than neighboring areas.
While it may require higher investments to live here, many find that Greensboro's high-quality housing options along with thriving healthcare facilities make it well worth considering for those seeking both charm and convenience in their new hometown.