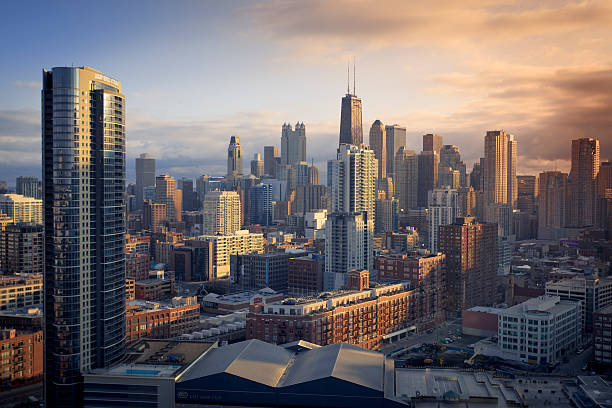 Are you considering moving to Illinois or just curious about the cost of living in this beautiful state? Well, you're not alone. Many people are interested in learning about the most expensive places to live and whether they can afford them.
From bustling cities with incredible amenities to quiet towns filled with charm, each location has its own unique features that make it special.
In this blog post, we will take a closer look at some of the priciest cities in Illinois so you can better understand their appeal and decide if they might be right for your lifestyle.
Don't worry – we've got your back! We have carefully researched these exclusive areas and gathered key information such as housing costs, job opportunities, and overall quality of life.
Stick with us as we unveil the top choices for upscale living within the Land of Lincoln!
Most Expensive Places to Live in Illinois
1. Kenilworth
Kenilworth is a small, upscale village near Chicago and by the beautiful Lake Michigan. It is known for being expensive to live in, with fancy homes and great schools.
The average household income here is about $227K, which means people who live here earn a lot of money compared to other places. Kenilworth has some famous residents too, like former President Barack Obama and actor Harrison Ford.
The price for an average house in this area is around $1.4M, making it one of the priciest towns in Illinois. However, families love living here because it's safe and offers excellent education options for their kids.
2. Winnetka
Winnetka, a vibrant village in Cook County, is another expensive place to live in Illinois. Known for its elegant homes and top-notch schools, around 12,361 people call Winnetka home as of the 2020 census.
The village sits near Chicago and offers residents an excellent quality of life with safe streets and fun things to do. The median home price here is quite high at $1.6M, but many families find it worth the cost to enjoy everything Winnetka has to offer.
With desirable schools and plenty of opportunities for enjoyment, it's no wonder that this charming village consistently attracts new residents seeking a fantastic lifestyle.
3. Glencoe
Glencoe, a picturesque village in Illinois, is known for its stunning views and high quality of living. However, living here doesn't come cheap, as the median home price is around $1.3M.
Despite being a small town with only 8,836 people as of the 2020 census, Glencoe has loads to offer, including top-performing schools and many engaging activities for residents.
The higher costs are due to factors like its desirable location – close enough to Chicago for convenience but far from city noise – and excellent educational opportunities.
4. Hinsdale
Hinsdale is an attractive town in Illinois known for its luxurious lifestyle and beautiful surroundings. With a median home price of $1M, it ranks among the most expensive places to live in the state.
About 16,654 people lived here as of the 2020 census, enjoying access to fine shopping, dining, and entertainment venues that Hinsdale has to offer.
The schools here are excellent too, making it an ideal place for families seeking top-quality education for their children.
5. Golf
Golf is a small, affluent village in Cook County, Illinois. With only about 521 people living here as of the 2020 census, it is considered one of the most expensive places to live in the state.
The median home price in Golf is around $962K, and residents enjoy access to some fantastic golf courses that give the village its name.
Life in Golf offers many perks for those who can afford it – beautiful homes, excellent schools, and plenty of recreational activities like playing golf or enjoying time outdoors.
Living here comes with a high price tag but ensures an exceptional experience filled with elegance and comfort for its residents.
6. Bannockburn
Bannockburn, a lovely village in northern Illinois, is home to about 1,194 people as of the 2020 census. Situated roughly 25 miles northwest of downtown Chicago, it ranks among the most expensive places to live in the state with a median home price of around $966K.
Bannockburn residents enjoy an affluent lifestyle with access to high-quality schools and various amenities that make day-to-day life more enjoyable.
In this charming village, you'll also find businesses like country clubs and libraries which contribute to a wholesome living experience. While living here comes at a premium cost, those who choose Bannockburn to reap the benefits of safety, education quality, and recreational options.
7. Lake Forest
Lake Forest, a beautiful city in Illinois, is the seventh most expensive place to live in the state. With a median home price of $956K and a population of around 19,000 people as of the 2020 census, this city offers an excellent balance between urban convenience and natural beauty.
Located near Chicago in Lake County, it houses several large businesses like S&C Electric Company and Tenneco that boost the local economy.
Along with beautiful parks for relaxation, residents can also enjoy golf courses or join country clubs for leisure activities. Lake Forest boasts high-quality private schools making it an ideal choice for families who prioritize education.
8. South Barrington
South Barrington, located in the northwest suburbs of Chicago, is known for being an affluent community with a population of around 4,765 people as of the 2020 census.
The average household income here is over $183K, and the median home price sits at about $929K. South Barrington is famous for its upscale shopping centers and fine dining options that cater to residents' luxurious tastes.
Excellent schools are also available in this area, making it attractive to families who prioritize education quality alongside fancy amenities.
While living in South Barrington comes with premium costs, the return on investment includes a fantastic lifestyle full of luxury comforts.
9. Barrington Hills
Barrington Hills, an affluent suburb in Illinois, is considered the ninth most expensive city to live in with a median home price of $840K. The average household income here is over $112K and about 4,117 people called it their home as of the 2020 census.
This town offers top-rated schools and maintains a low crime rate, making it an ideal place for families seeking a safe and nurturing environment. The area has even attracted celebrities like Bill Murray and Harrison Ford who enjoy Barrington Hills' high quality of life.
Despite its higher costs, this quaint yet vibrant community provides residents with the satisfaction of living in a beautiful, peaceful setting.
10. Wilmette
Wilmette, a charming village in Cook County, Illinois, is home to around 27,114 people as of the 2020 census. It has been listed among the wealthiest towns in the United States by various sources like Wall Street and Business Insider.
The village lies just 14 miles north of downtown Chicago and offers an affluent lifestyle with elegant homes and a New England-style town center. Wilmette boasts public beaches along Lake Michigan that are popular destinations for both locals and visitors from nearby cities.
Annual events like pet parades, sidewalk sales days, and holiday celebrations bring excitement to this vibrant community.
Living here comes with a price tag as median home prices hover at $856K; nonetheless, residents enjoy peace of mind knowing they're partaking in an unparalleled standard of living.