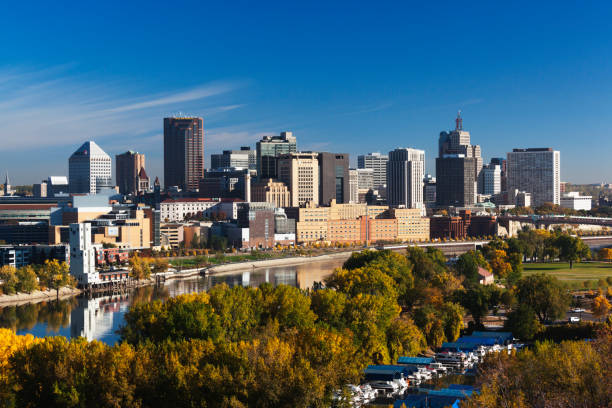 Are you thinking of moving to Minnesota but wondering which city would be the best fit for your budget? The cost of living varies significantly between different parts of the state, and choosing the wrong city can be a costly mistake.
In this article, we'll provide you with a comprehensive guide to the most expensive cities in Minnesota and help you make an informed decision.
We'll explore the reasons behind the high costs of living in these expensive cities and provide you with recommendations for more affordable options.
According to recent data, Minnetonka Beach is the most expensive city in Minnesota, followed by Greenwood and Woodland. These cities are known for their luxurious homes, high-end restaurants, and exclusive boutiques, but they may not be affordable for everyone.
On the other hand, cities like Brooklyn Park, Bloomington, and Burnsville offer a lower cost of living while still providing access to excellent schools, parks, and cultural attractions.
Whether you're moving to Minnesota for work, education, or a change of scenery, we've got you covered. Read on to find out which city in Minnesota is the best fit for you and your budget.
Most Expensive Places to Live in Minnesota
1. Minnetonka Beach
Minnetonka Beach is one of the most expensive cities in Minnesota. With its beautiful shoreline and amazing views, many people dream of living here. The median home price in this city is around $1.8M, making it a luxurious place to live.
Located near Minneapolis, residents can enjoy the peaceful environment while still having access to big-city amenities. Warm summers and mild winters make Minnetonka Beach perfect for year-round outdoor activities.
This city also has an active community with lots of things to do, making it a popular choice for families and individuals who want a high-quality lifestyle by the lake.
2. Greenwood
Greenwood is another pricey city in Minnesota, known for its thriving arts scene and beautiful landscapes. Despite having a reputation for being costly, there are many reasons people are drawn to this area.
The median home price here is about $1.4M, which reflects the high demand for housing. Greenwood's excellent schools, low crime rate, and access to natural resources like lakes and rivers make it an ideal place to live.
Being located in the heart of the Twin Cities metro area also means that residents can easily access all the amenities and opportunities of a large city while enjoying their peaceful community.
3. Woodland
Woodland, another expensive city in Minnesota, offers a mix of comfort and luxury. The median home price in this area is around $1.4M, attracting those who desire a high-quality lifestyle.
Woodland's strong sense of community and beautiful surroundings make it an ideal place to settle down for families and professionals alike. Residents can enjoy the town's thriving arts scene, picturesque scenery, and boutique shops that cater to different tastes.
Its excellent schools also attract parents looking for top-notch education options for their children. Despite its higher cost of living, Woodland continues to grow as a popular destination for people seeking both natural beauty and modern amenities.
4. Orono
Orono, a city situated on the banks of Lake Minnetonka, is yet another expensive place to live in Minnesota. With a median home price of around $1.1M, this city offers luxurious living for its residents.
Orono boasts many notable sites such as the Covered Bridge, public library, and historical society museum that showcase its rich history and charm.
Outdoor enthusiasts love Orono's hiking and biking trails along with parks that provide space for relaxation and recreation. Its proximity to Minneapolis also ensures easy access to urban amenities while maintaining serenity in daily life.
The high cost of living in Orono reflects not only property values but also the exceptional quality of life it provides to residents.
5. Sunfish Lake
Sunfish Lake is a city in Minnesota that stands out for its high cost of living and appealing features. With a median home price of $1.1M, this city offers a luxurious lifestyle to those who choose to call it home.
Sunfish Lake is surrounded by natural beauty, with parks and green spaces that allow residents to enjoy the outdoors. The city also boasts excellent schools, low crime rates, and several shops and restaurants that cater to various tastes.
One of the top attractions in Sunfish Lake is its namesake body of water which provides opportunities for swimming, fishing, and boating activities.
The peaceful atmosphere combined with top-notch amenities makes this city an ideal choice for families seeking both luxury and nature in their daily lives.
6. Medicine Lake
Medicine Lake is a small yet expensive town in Minnesota, located along the beautiful shores of its namesake Lake.
With a median home price of around $997K, it attracts those who appreciate both luxury and nature. The lake offers fun activities such as swimming, fishing, and boating to keep residents entertained.
In addition to its natural beauty, Medicine Lake provides several parks and trails for outdoor enthusiasts to explore on foot or by bike. The city also features unique shops, art galleries, and dining options that cater to various preferences.
Despite its size, Medicine Lake has a lot to offer for those seeking top-notch amenities combined with the tranquility of lakeside living at a higher cost.
7. Tonka Bay
Tonka Bay, a small city in Minnesota with just over 1,466 people, is known for its high cost of living and picturesque surroundings.
The median home price in this city is about $991K, making it an expensive yet desirable place to live. Situated on the shores of Lake Minnetonka, Tonka Bay provides residents with a serene environment away from the urban hustle.
The city boasts beautiful parks and trails where families can enjoy outdoor activities like swimming, fishing, and boating.
With easy access to the Twin Cities, residents also benefit from the metropolitan area's amenities without sacrificing their peaceful lifestyle.
Unique shops and small businesses add charm to this lovely city that combines luxury and natural beauty at a premium cost.
8. North Oaks
North Oaks is another expensive city in Minnesota, with a median home price of around $868K. Despite its high cost, many people are attracted to the area for its pristine landscapes and friendly community.
Located on the banks of the St. Croix River, North Oaks boasts miles of hiking and biking trails that offer scenic views.
The city is also known for its excellent schools, including a top-ranked elementary school that draws parents seeking quality education for their children.
The close-knit community in North Oaks values civic pride and provides residents with a suburban lifestyle featuring numerous green spaces and parks.
9. Deephaven
Deephaven, a small city in Minnesota located along the shores of Lake Minnetonka, has a high cost of living with a median home price of around $918K.
This charming city attracts residents who desire luxury and access to natural beauty. With its quaint small-town atmosphere, Deephaven offers warm hospitality and a sense of community.
The waterfront area provides numerous opportunities for outdoor activities like boating and fishing, while the downtown district is home to unique shops and restaurants.
Residents can also enjoy the annual Fourth of July parade or take leisurely strolls during the fall foliage season.
The combination of modern amenities, excellent schools, and serene surroundings make Deephaven an expensive yet desirable place to call home.
10. Dellwood
Dellwood, a small city in Minnesota just north of Saint Paul, is known for its high cost of living and luxurious lifestyle. With a median home price of around $895K, Dellwood offers an attractive blend of comfort and elegance.
The close-knit community takes pride in its civic involvement and provides ample green spaces for families to enjoy.
Residents can explore the downtown area which features unique shops and restaurants, including the Dellwood Farmers Market which runs from May through November.
This market showcases fresh produce, local products, arts and crafts vendors as well as live music events during summer months.