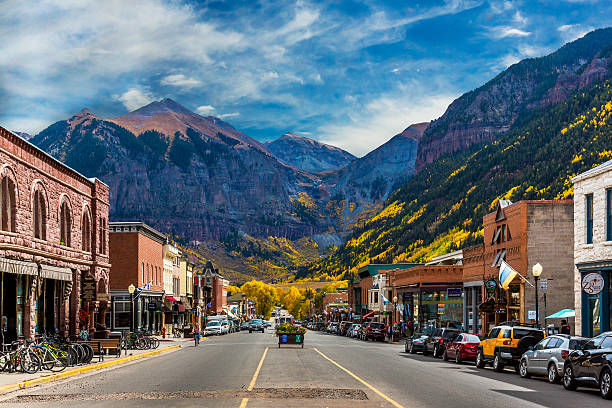 Looking to relocate to Colorado but not sure if you can afford it? Colorado is known for its stunning scenery, year-round outdoor activities, and quality of life, but some areas come with a hefty price tag.
In this blog post, we'll explore the most expensive places to live in Colorado, giving you the information you need to make an informed decision. From the vibrant city of Denver to charming mountain towns, Colorado offers a diverse range of communities to choose from.
However, the cost of living can vary significantly depending on where you decide to settle. We'll delve into the factors that contribute to the high cost of living in these areas, such as housing, taxes, and transportation costs.
We'll also give you insights into the amenities and quality of life that come with these high-priced areas, so you can make an informed decision about what's important to you.
By the end of this post, you'll have a good understanding of the most expensive places to live in Colorado and what it takes to afford them.
So, let's get started!
Most Expensive Places to Live in Colorado
1. Aspen
Aspen, a beautiful town in Colorado, is known for its high living costs. The median home price in Aspen is a whopping $2.7M, and with a population of 7,721 residents as of 2020, it's clear that this mountain paradise isn't necessarily affordable for everyone.
Aspen's stunning beauty and a vast range of outdoor activities make it an attractive destination for tourists and wealthy homeowners alike.
The location in the Rocky Mountains contributes to the costliness due to limited accessibility during certain parts of the year, making transportation expensive. High-priced groceries and other essentials also add to Aspen's overall high cost of living.
2. Vail
Vail, Colorado is another expensive place to live in the state. With a population of 5,614 as of 2020 and a cost of living at 190.9%, Vail's living expenses are significantly higher than both the national and state averages.
Housing is the primary factor behind these costs, with median home prices around $1.6M and average rental rates well above $2,000 per month.
The mountainside location plays a significant role in driving up Vail's costs; its popular ski resort spans an impressive 5,289 acres, making it one of North America's largest resorts. High-quality amenities also contribute to the expense since luxury accommodations boost property values in the area.
Though salaries may be higher in Vail compared to other parts of Colorado, covering all living expenses remains challenging for many residents due to steep housing costs and other pricey factors related to this sought-after destination.
3. Snowmass Village
Snowmass Village stands out as Colorado's most expensive place to live when it comes to housing costs. In this picturesque mountain town, the median home price is an impressive $1.4M, and the average rent for a one-bedroom apartment stands at $1,700 per month.
With a 2020 population of 2,786, Snowmass Village attracts wealthy families and retirees who enjoy luxury resorts and beautiful surroundings.
Proximity to Aspen makes Snowmass popular among skiers and snowboarders; however, it also contributes to its high living costs due mainly to the limited housing supply.
As only so many homes are available for purchase or rent in this small town, demand from buyers willing to pay top dollar has driven up property values.
4. Edwards
Edwards, Colorado has been identified as one of the most expensive places to live in the state. The median home price reaches up to $1.8M, making housing a significant expense for its 9,347 residents as of 2020.
The cost of living index stands at 202.6%, and finding affordable apartments or homes can be quite challenging. Located in the Vail Valley, Edwards is famous for its world-class skiing and golf resorts that add a luxurious appeal to the area.
The town's position in the Rocky Mountains attracts outdoor enthusiasts, while several high-end shops and restaurants contribute to the elevated costs.
5. Avon
Avon, Colorado is an affluent residential town with around 6,711 residents as of 2020. This picturesque location presents high living costs, with the median home value surpassing $1.1M. High taxes are also a significant burden for many who live in this area.
Several factors contribute to Avon's expensive nature: limited housing supply, high demand for properties, and the costly land within the Rocky Mountains. The town's presence in Eagle River Valley means it attracts tourists seeking natural beauty and recreational activities.
Despite these challenges, Avon remains an appealing place to live due to its exceptional schools, low crime rate, and proximity to larger cities like Denver.
6. Breckenridge
Breckenridge, a small ski town in Summit County, Colorado, is admired for its charming scenery and exciting outdoor activities. However, it also ranks as one of the state's most expensive places to live.
The median home price in Breckenridge stands at around $1.3M, and the median rent sits at $1,185 per month. With a cost of living index of 141.6%, this town can be quite pricey compared to other locations in Colorado.
Goods and services tend to be twice as costly as the state average due to their popularity among tourists seeking world-class skiing experiences or venturing outdoors for hikes during warmer months.
In addition to these appealing features, Breckenridge has conveniently located just an hour away from Denver –– another factor that attracts people despite its high living costs.
7. Crested Butte
Crested Butte, located in Gunnison County, is a small town with big-city appeal and offers everything needed for an enjoyable lifestyle.
The area boasts stunning scenic attractions like Blue Mesa Reservoir, Curecanti National Recreation Area, and Black Canyon of the Gunnison National Park.
With a population of 1,335 as of 2020, Crested Butte presents high living costs and a median home price of $1.5M.
This charming town maintains its local culture by avoiding franchises and traffic jams on Main Street. A strong economy exists here since all residents have job opportunities in the numerous small businesses catering to both locals and tourists who visit during skiing or hiking seasons.
8. Steamboat Springs
Steamboat Springs, situated in Routt County with a population of 13,048 as of 2020, is named after the nearby hot springs.
This mountain town is renowned for its exceptional skiing and outdoor activities but also ranks among Colorado's most expensive places to live.
The cost of living index in Steamboat Springs is 144.8%, which is significantly higher than the national average.
Housing costs contribute substantially to these expenses, with median home prices reaching $1.1M and goods and services twice as costly as statewide averages.
The remote location within the mountains makes it challenging to access while catering mainly to visitors rather than locals.
9. Boulder
Boulder, Colorado, is considered one of the best places to live in the state. With a population of 108,777 as of 2020 and offering a high quality of life paired with breathtaking views, Boulder has become an attractive location for many.
Home to the University of Colorado, it consistently ranks among America's top cities for young people. The cost of living in Boulder sits at 167.4%, making it relatively expensive compared to other areas.
Housing costs are notably inflated by demand for properties featuring mountain views due to their presence along the Rocky Mountains front range.
Several tech startups and corporations headquartered in this university town also drive up living expenses, but residents enjoy excellent schools, job opportunities, and amenities that contribute to their exceptional lifestyle.
10. Carbondale
Carbondale, a quaint town positioned between Denver and Colorado Springs, offers an ideal location for commuters seeking both city conveniences and peaceful living.
Home to 6,658 residents as of 2020, Carbondale has exceptional schools, with over 90% of high school students graduating and pursuing college or further education.
Despite its many perks, Carbondale ranks among the most expensive places to live in Colorado. Median home prices reach up to $1.7M and contribute significantly to the cost of living index at 147.3%.
This mountain town's popularity is partly due to its proximity to Aspen and Vail – sought-after destinations that also drive up property values.
Carbondale's limited housing supply has played a significant role in inflating these prices but continues attracting people longing for picturesque surroundings coupled with accessibility benefits.