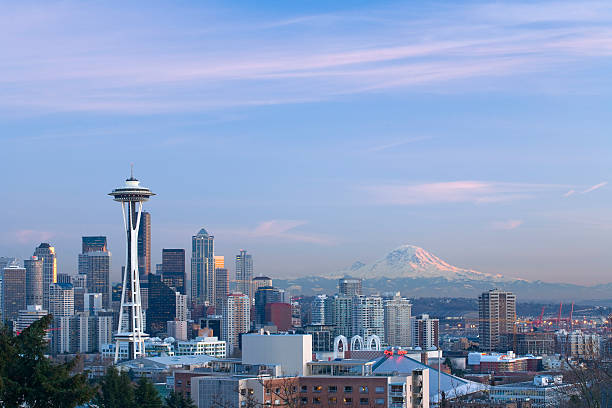 Are you considering a move to Washington State but want to know more about the most luxurious and upscale cities it has to offer?
Or perhaps, you're already living there and seeking a change of scenery that matches your lifestyle aspirations without stretching your budget too far. You've come to the right place!
In this comprehensive blog post, we will guide you through a journey discovering Washington State's most expensive cities while keeping in mind what really matters – the intentions of our readers.
Not only will you learn about these upscale locations, but we'll also reveal some hidden gems that can provide an exceptional living experience without breaking the bank.
By providing valuable insights and practical tips on navigating life within these affluent neighborhoods, our aim is to help make your relocation as smooth as possible.
So sit back and join us on an exciting adventure exploring Washington State's finest locales tailored just for you!
Most Expensive Cities in Washington State
1. Bellevue
Bellevue, a beautiful and bustling city in Washington State, has earned its reputation as one of the most expensive places to live. With an impressive cost of living index of 111.7%, life here can be quite costly!
The median home price is around $1.5M, showing just how luxurious this city truly is. Many even call Bellevue a "luxury city" due to its wealthy residents – the average household income is over $129K per year.
But don't let these high costs fool you; there are still plenty of fun things to do in Bellevue! From dining at delicious restaurants to spending time outdoors in lovely parks and trails, it's easy to see why so many people are drawn to this vibrant Washington gem.
2. Sammamish
Sammamish is a city in Washington State known for its high cost of living, with an index of about 199.6%. Located east of Seattle, this city is home to around 65,265 people.
One reason for the high cost of living in Sammamish is its close location to Seattle and all the great things it offers. Homes in Sammamish can be quite expensive, with a median price of $1.8M! Because of this, many residents pay more for daily needs like food and services.
It is true that it has a high cost of living, but Sammamish keeps attracting more people who want a balance between quiet suburban life and access to good schools.
Many families enjoy living here because they can work in Seattle while still having a peaceful environment to raise their kids away from the busy city noise.
3. Kirkland
Kirkland, Washington, is another city known for being pricey to live in. Located not too far from Seattle, the cost of living in Kirkland is about 173%, making it one of the most expensive places in the state!
The median home price here is around $1.2M, nearly three times as much as the state's average of $452K. Even with these high costs, many people still choose to call Kirkland their home.
Why? Well, it has a great economy and lots of job opportunities. Big companies like Google and Microsoft have offices right in the city! Plus, Kirkland has an excellent school system for families with children.
Another big draw is a natural beauty that surrounds the city. From lovely parks to stunning waterfronts, there are plenty of outdoor activities to enjoy in this scenic Washington gem.
4. Seattle
Seattle, the largest city in Washington State, is known for its lively atmosphere and amazing attractions. However, this bustling city is also one of the most expensive places to live in Washington.
With a high cost of living index of around 172.3%, life in Seattle comes with a hefty price tag. The median home price in Seattle stands at $985K, while renting can be costly too: a one-bedroom apartment's average rent is over $1.5K per month!
Not just housing, but other living expenses like groceries, transportation, and utilities are quite high compared to other cities within the state.
With so much going on – from exciting events to unique places to explore – it's easy to see why Seattle remains an attractive place for those willing to pay for its dynamic lifestyle!
5. Redmond
Redmond is another expensive city to live in Washington State, with a cost of living index of around 185.1%. The median home price in this thriving city is $1.4M, while the median rent for an apartment can reach up to $3.1K per month!
One reason for these high costs could be its close location to Seattle and the presence of various technology companies. Although living in Redmond might seem costly, it has plenty of great features that make it worth considering.
Known for offering a high quality of life, residents enjoy many amenities like fantastic parks and top-notch schools.
It's important to note that Redmond might not be the best fit for everyone – mainly if you don't work within the tech industry because of its expensive housing market. However, those who do work in this field or prefer luxurious living may find Redmond the perfect place to call home!
6. Shoreline
Shoreline is a beautiful suburb located close to Seattle, known for being one of the most expensive places to live in Washington State. The cost of living index here is about 154.2%, and that's mostly because it's near Seattle.
This proximity causes housing prices in Shoreline to be much higher than other parts of the state. The city boasts plenty of great businesses and high-paying jobs, which contribute to its high costs.
Despite these pricey aspects, Shoreline remains an attractive area for many people due to its fantastic schools and numerous parks providing fun recreational activities. On top of that, the community spirit is strong among residents!
With its excellent amenities and exciting opportunities, it's no surprise why so many choose to call Shoreline home – even with the added expenses that come along with living in this desirable location.
7. Issaquah
Issaquah is a charming city in Washington State with a high cost of living, which sits at about 172.5%. Found just east of Seattle, this lovely spot has around 38,707 residents.
The median home price in Issaquah is $1.2M – quite an expensive figure compared to other areas! In fact, Zillow shares that the average rent for a two-bedroom apartment here reaches $2.4K per month.
Even with its hefty price tag, Issaquah remains a highly sought-after place to live because it's not only beautiful but also offers fantastic community vibes. Residents enjoy easy access to Seattle and plenty of local amenities without sacrificing the calm atmosphere they love about their hometown.
If you're thinking about calling Issaquah home but worry about the costs involved, remember that this city provides so many great reasons why it might just be worth every penny spent on living there.
8. Bothell
Bothell is another city in Washington State that comes with a high cost of living, with an index of about 156.8%. Situated not far from Seattle, Bothell has a median home price of $1.1M and an average rent for a one-bedroom apartment over $1.6K per month!
These high costs can be attributed to the growing population and limited availability of land in the area. But don't let these pricey figures scare you – Bothell has much to offer!
A convenient location combined with countless amenities makes it a popular choice for many residents. Beautiful parks, top-notch schools, and easy access to work opportunities make living in Bothell quite appealing.
While it may be expensive to settle down in this thriving city, those who already call Bothell home know that the blend of convenience and charm makes it worth every dollar spent on their living expenses.
9. Edmonds
Edmonds, Washington, is a quaint city located just north of Seattle. Often called a bedroom community, many people who work in Seattle choose to live here for its quieter environment away from the busy life of the big city. However, Edmonds is also among the most expensive places to live in Washington State.
Zillow states that the median home value in Edmonds is $962K – more than double the statewide average of $452K! Even rental prices are higher here when compared to other cities within the state. But don't let these figures discourage you; there's much to love about living in Edmonds!
With its friendly community feel and easy access to both nature and urban attractions, Edmonds offers an ideal blend of peaceful suburban life with just enough excitement nearby.
10. Renton
Renton, Washington is a city that offers both beauty and bustling activities, but it comes with a high cost of living. Recent data from Zillow reveal that the median home value in Renton stands at $788K – over twice the national median value of $374,900.
For those looking to rent instead, a two-bedroom apartment has an average monthly cost of around $1.95K. Despite these high prices, Renton remains an attractive destination for many due to its above-average household income when compared to other cities across the nation.
The city's median household income sits at approximately $79.8K per year. Though living in Renton can be costly, it provides residents with plenty of opportunities and amenities such as excellent schools and various recreational facilities.