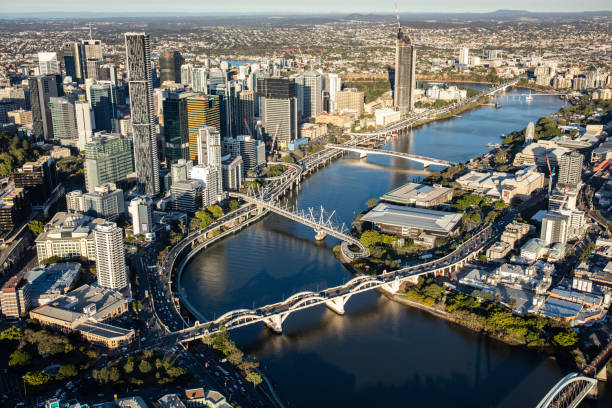 Stokehouse is the most expensive restaurant in Brisbane, known for its exquisite cuisine, stunning river views, and impeccable service. It is also the most luxurious restaurant, offering an unforgettable dining experience with spectacular views. Indulge in exquisite dishes crafted by expert chefs, making it the ultimate destination for fine dining.
Are you looking for a luxurious dining experience in Brisbane? Look no further! In this article, we'll take you on a journey through the city's most expensive and exclusive restaurants. Brisbane's fine dining scene is booming, and we've handpicked the best of the best for you.
From awe-inspiring waterfront views to multi-course tasting menus, these restaurants will leave you feeling pampered and satisfied. But, we understand that splurging on a meal can be daunting, which is why we've also highlighted the value for money that each restaurant offers.
In this guide, we'll showcase the standout dishes, the impeccable service, and the unique experiences that these high-end restaurants offer. Whether you're celebrating a special occasion or simply looking for an unforgettable meal, we've got you covered.
So, get ready to indulge in the most luxurious dining experiences that Brisbane has to offer.
Most Expensive Restaurants in Brisbane
1. Stokehouse
Stokehouse, located in the lively South Bank precinct, is Brisbane's most expensive and luxurious restaurant. This stylish eatery offers breathtaking views of the Brisbane River and city skyline, making it an ideal setting for special occasions or romantic dinners.
Their menu features modern Australian dishes made from fresh, local ingredients sourced from top-quality suppliers. Guests can indulge in delectable seafood options like Moreton Bay bugs and freshly shucked oysters or try mouthwatering meat dishes such as slow-roasted lamb shoulder.
With an extensive wine list showcasing some of Australia's finest wines, Stokehouse ensures a truly memorable dining experience for anyone seeking a high-end restaurant in Brisbane.
2. Montrachet
Montrachet is another extravagant dining destination in Brisbane, known for its elegant French cuisine and sophisticated atmosphere.
Situated in the bustling King Street precinct, this upscale restaurant is perfect for those wanting to immerse themselves in a truly Parisian experience.
Montrachet's menu features an array of rich, flavorful dishes like duck confit and escargot, as well as delicate desserts such as crème brûlée or soufflé.
To complement their exquisite meal, guests can choose from an impressive collection of French wines handpicked by expert sommeliers.
With impeccable service and opulent surroundings, Montrachet promises an unforgettable night out for anyone seeking a taste of France in the heart of Brisbane.
3. Thyme2 Restaurant
Thyme2 Restaurant, found within the luxurious Sofitel Brisbane Central Hotel, is another top contender among the most expensive restaurants in Brisbane.
This chic dining establishment offers guests an unparalleled buffet experience, complete with international cuisine prepared right before their eyes by expert chefs.
From fresh sushi and sashimi to succulent roast meats and a diverse array of salads and vegetables, Thyme2 has something for everyone.
An essential part of any visit here is the extensive dessert selection that includes macarons, éclairs, and other sweet treats crafted to perfection by talented pastry chefs.
Thyme2's sophisticated ambiance, combined with its exciting variety of gastronomic delights, makes it a popular choice for special occasions or indulgent evenings out.
4. Il Centro Restaurant
Il Centro Restaurant is a premier choice for those seeking a luxurious Italian dining experience in Brisbane. Nestled near the iconic Story Bridge, this refined eatery boasts stunning views of the surrounding riverfront, creating an enchanting atmosphere perfect for special events or simply savoring fine cuisine.
Il Centro's menu showcases classic Italian dishes made with high-quality regional ingredients and prepared with modern culinary techniques.
Patrons can indulge in flavorful pasta options like their signature sand crab lasagne or sample exquisite seafood creations such as whole-baked snapper.
To complete the meal, guests can choose from an exceptional list of Italian wines that perfectly complement each dish. Il Centro Restaurant delivers an unforgettable dining experience rooted in rich Italian tradition and stylish ambiance.
5. Blackbird
Blackbird, situated in the heart of Brisbane's vibrant Eagle Street Pier precinct, is a luxurious dining venue that offers guests an upscale modern Australian culinary experience.
The interior of this opulent restaurant features art-deco-inspired décor with breathtaking panoramic views of the Brisbane River and Story Bridge, making it an ideal location for memorable evenings out or special celebrations.
Blackbird's menu boasts innovative dishes prepared by talented chefs using fresh local ingredients, such as delectable seafood selections and succulent steaks from premium Australian beef providers.
To enhance their meal, patrons can explore a meticulously curated wine list showcasing some of the finest domestic and international wines available.
6. Emporium Hotel
The Emporium Hotel South Bank, a renowned luxury hotel in Brisbane, is home to an exceptional dining venue that offers guests an upscale and extravagant dining experience.
Ideal for sophisticated dinners or special occasions, the restaurant within this elegant hotel boasts stylish interior design elements and stunning views of the city skyline.
The menu at the Emporium Hotel features modern Australian cuisine, showcasing expertly crafted dishes made from fresh local produce like exquisite seafood platters and tender cuts of meat cooked to perfection.
Patrons can also enjoy a selection of fine cheeses sourced from around the world alongside their meals. Complementing these gastronomic delights is a carefully chosen wine list with premium labels designed to enhance each dish's flavors.
For those seeking a luxurious dining atmosphere with top-quality cuisine and attentive service, the Emporium Hotel South Bank delivers an unforgettable experience in Brisbane's food scene.
7. OTTO
OTTO is a prestigious dining establishment in Brisbane that offers patrons an exceptional Italian culinary experience combined with spectacular riverside views.
Located near the vibrant Howard Smith Wharves, this upscale restaurant provides a perfect setting for romantic dinners or special events. OTTO's menu features refined Italian dishes made with the finest local ingredients and prepared using traditional cooking techniques.
Guests can savor mouthwatering pasta creations, such as handmade ravioli, or indulge in succulent meat and seafood options like chargrilled octopus or veal cotoletta.
To accompany their meal, diners have access to an impressive wine list that highlights premium Italian wines chosen by knowledgeable sommeliers.
With its elegant atmosphere, attentive service, and exquisite cuisine, OTTO stands out as a top choice for luxury dining in Brisbane's competitive food scene.
8. Black Hide Steakhouse
Black Hide Steakhouse, located in the lively Petrie Terrace neighborhood of Brisbane, is a premier dining destination for carnivores seeking the ultimate steak experience.
This upscale eatery boasts an intimate setting with sleek and sophisticated décor, perfect for special occasions or simply enjoying an evening of indulgence.
Black Hide prides itself on serving only top-quality cuts of Australian Wagyu and Angus beef, expertly prepared to showcase the meat's natural flavors and tenderness.
The menu offers a diverse selection of steaks, from filet mignon to ribeye, ensuring there is something to satisfy every palate. Side dishes such as truffle mashed potatoes or roasted pumpkin further enhance each meal's deliciousness.
To complete the dining experience, guests can choose from a fine selection of wines carefully curated to complement their chosen cut of meat.
9. Jamie's Italian
Jamie's Italian, a popular dining destination in Brisbane, is the brainchild of world-famous celebrity chef Jamie Oliver. This stylish eatery offers guests an unforgettable culinary journey into the heart of Italy with its homey atmosphere and mouthwatering dishes made from top-notch local ingredients.
Located in the bustling city center, Jamie's Italian is perfect for family gatherings, friendly get-togethers, or simply savoring authentic Italian cuisine.
The menu features a wide variety of homemade pasta options like prawn linguine or truffle tagliatelle as well as delectable pizzas and scrumptious seafood dishes such as seared swordfish.
To complete their meal, diners can choose from a curated selection of exquisite Italian wines specially chosen to enhance each dish's flavors.
Combining exceptional food with an inviting ambiance and attentive service, Jamie's Italian promises a memorable dining experience that transports patrons to the very essence of Italy right here in Brisbane.
10. Deer Duck Bistro
Deer Duck Bistro, nestled in the charming suburb of Auchenflower, is a unique and luxurious dining experience for Brisbane's culinary enthusiasts.
This intimate eatery has an artistic atmosphere with its eclectic décor featuring vintage furniture and beautiful artwork adorning the walls.
Deer Duck Bistro's menu is centered around modern European cuisine, using fresh local ingredients meticulously crafted into exquisite dishes that delight both the eyes and taste buds.
Patrons can indulge in sumptuous options such as duck breast with confit leg or tender beef fillet accompanied by seasonal vegetables and innovative sauces.
The dessert offerings are equally enticing, showcasing delicacies like chocolate fondant or lavender panna cotta. To elevate each meal, a handpicked selection of fine wines caters to every palate preference.