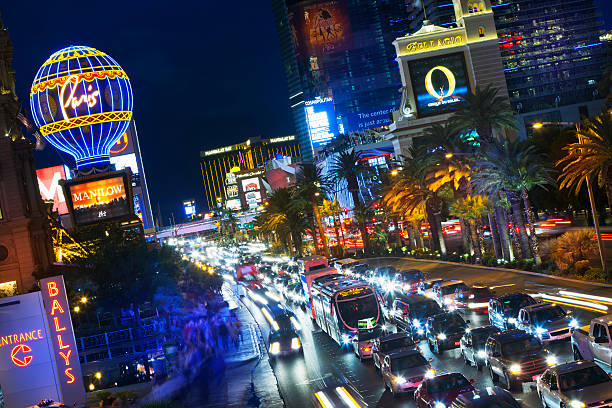 Are you planning a trip to Las Vegas and looking for the ultimate dining experience? Las Vegas is known for its luxurious restaurants that offer not only delicious food but also incredible ambiance and service.
In this blog post, we'll explore the top most expensive restaurants in Las Vegas and what makes them worth the splurge. Whether you're a foodie, a wine enthusiast, or simply looking to indulge in a once-in-a-lifetime dining experience, Las Vegas has something for everyone.
From French cuisine to Japanese delicacies, we'll take you on a culinary journey through the city's finest restaurants. We'll delve into the unique features of each restaurant, such as the stunning views, celebrity chefs, and impressive wine collections.
You'll get an insider's perspective on what makes these restaurants stand out and which one suits your taste and budget. So, get ready to embark on an unforgettable food adventure as we introduce you to the most expensive restaurants in Las Vegas.
Most Expensive Restaurants in Las Vegas
1. Vic & Anthony's Steakhouse
Vic & Anthony's Steakhouse is a top choice for people who love amazing food and a classy atmosphere. Located in the famous Golden Nugget Las Vegas Hotel & Casino, this upscale restaurant offers delicious steaks, seafood dishes, classic salads, and tasty side dishes that will leave your taste buds craving more.
The elegant yet cozy setting is perfect for a special date night or even a group dinner with friends and family. Known for their exceptional service, Vic & Anthony's provides an unforgettable dining experience that everyone should try when visiting Las Vegas.
Their impressive menu selections cater to various preferences, ensuring each guest finds something they love to eat during their visit.
2. L'Atelier de Joel Robuchon
L'Atelier de Joel Robuchon is a truly unique dining experience in Las Vegas, offering the finest French cuisine in an artistic and sophisticated environment. Located inside MGM Grand, this restaurant is a creation of none other than France's "Chef of the Century," Joel Robuchon.
The unique concept involves preparing each meal right before your eyes in an open kitchen setting. This friendly and interactive atmosphere allows guests to get an up-close look at how award-winning dishes are expertly prepared by skilled chefs.
With exceptional service, delightful ambiance, and culinary masterpieces at every turn, L'Atelier de Joel Robuchon should definitely be on your must-try list when visiting Sin City.
3. Picasso
For a lavish Las Vegas dining experience, look no further than Picasso. Situated inside the elegant Bellagio Hotel & Casino, this acclaimed New French restaurant offers exquisite tasting menus and an array of original artwork by the legendary Pablo Picasso himself.
Combining the artistry of both cuisine and fine art, guests will enjoy world-class dishes prepared by skilled chefs while being surrounded by awe-inspiring paintings.
The serene view of Bellagio's famous fountains dancing on a Mediterranean-blue lake only adds to the enchanting atmosphere that's perfect for a romantic evening or special celebration.
Indulge in an unforgettable culinary adventure at Picasso, where impeccable service and breathtaking surroundings create memories that will last a lifetime.
4. The Capital Grille
When visiting Las Vegas, The Capital Grille is an excellent dining option for anyone seeking a refined and memorable experience.
Conveniently located in the Fashion Show Las Vegas mall, this upscale steakhouse chain offers classic American fare in a sophisticated club-style setting.
Renowned for their expertly prepared steaks that are dry-aged in-house, their mouthwatering menu also includes delicious seafood, appetizers, and delectable desserts.
The diverse wine list features over 350 selections displayed in an impressive floor-to-ceiling kiosk regularly housing thousands of bottles to enhance your meal.
5. Bazaar Meat By José Andrés
Bazaar Meat by José Andrés is a must-visit destination for meat lovers in Las Vegas. Located within the elegant SAHARA Las Vegas, this sleek Philippe Starck-designed steakhouse boasts an exceptional menu crafted by renowned chef José Andrés.
Combining traditional and inventive meat cuts with unique flavor profiles, Bazaar Meat offers an unparalleled dining experience that will satisfy the most discerning palates.
The attentive staff ensures top-notch service while you indulge in unique dishes inspired by both domestic and international culinary traditions. The chic ambiance of the restaurant is perfect for a special night out or to impress guests during your trip to Sin City.
6. Andiamo Steakhouse
Andiamo Steakhouse, located in The D Casino & Hotel, offers an exceptional dining experience that expertly blends American prime steaks with tantalizing Italian flavors.
This posh chophouse is the perfect place to enjoy a delicious meal in a luxurious ambiance while visiting Las Vegas. Their menu features classic steak cuts as well as hearty Italian plates, ensuring every guest can find something they love.
Andiamo Steakhouse's commitment to providing top-quality food and outstanding service guarantees a memorable evening for all who visit this remarkable establishment.
If you're seeking a unique culinary adventure that combines the best of both worlds – tender steaks and delightful Italian fare – look no further than Andiamo Steakhouse in downtown Las Vegas.
7. Fogo de Chão Brazilian Steakhouse
Fogo de Chão Brazilian Steakhouse is an exciting and vibrant dining destination in Las Vegas, perfect for those who crave a unique culinary experience.
With its origins in Southern Brazil, this upscale eatery has become popular worldwide for its all-you-can-eat meat servings carved tableside by skilled chefs.
The extensive salad bar offers a wide variety of fresh ingredients to complement your meal while you enjoy the lively atmosphere. Located within the Hughes Center, Fogo de Chão provides exceptional service with dine-in, kerbside pickup, and no-contact delivery options available to cater to different preferences.
Prepare yourself for a flavorful journey through Brazil's rich culinary tradition at this delightful and lively steakhouse that truly stands out among Las Vegas' dining scene.
8. Top of the World
Top of the World is an extraordinary fine dining experience that will elevate your Las Vegas visit to new heights. Perched more than 800 feet above the city in The STRAT Hotel, Casino & SkyPod, this award-winning restaurant boasts breathtaking panoramic views and delicious New American cuisine.
As you dine on expertly crafted dishes in a sophisticated atmosphere, savor the sights of Las Vegas through floor-to-ceiling windows as the restaurant slowly revolves 360 degrees every 80 minutes.
With unbeatable vistas and exceptional service, Top of the World is perfect for special occasions or romantic evenings under the stars. Discover what makes this unique dining destination truly one-of-a-kind during your stay in Las Vegas.
9. Golden Steer Steakhouse Las Vegas
Step back in time and savor a classic Las Vegas dining experience at the legendary Golden Steer Steakhouse. Established in 1958, this iconic eatery has maintained its charm and reputation for serving mouthwatering steaks, succulent seafood, and fine wine in an authentic vintage atmosphere.
With its rich history of hosting celebrities and important figures from Frank Sinatra to Muhammad Ali, the Golden Steer provides patrons with great stories alongside exceptional cuisine.
The attentive staff ensures a memorable dining experience that will transport you to old-school Vegas when elegance and glamour were the norms.
10. Hugo's Cellar
Nestled within the Four Queens Hotel & Casino, Hugo's Cellar offers a charming dining experience that blends upscale Continental cuisine with an intimate and nostalgic atmosphere.
As soon as you arrive, ladies are presented with a beautiful rose, setting the tone for an elegant evening full of delightful surprises. Each meal at Hugo's Cellar includes a variety of scrumptious offerings such as tableside salad service, appetizers, and desserts like chocolate-covered strawberries.
Known for its attentive staff and unparalleled hospitality, this old-school joint provides an unforgettable dining experience perfect for special occasions or romantic evenings in Las Vegas.