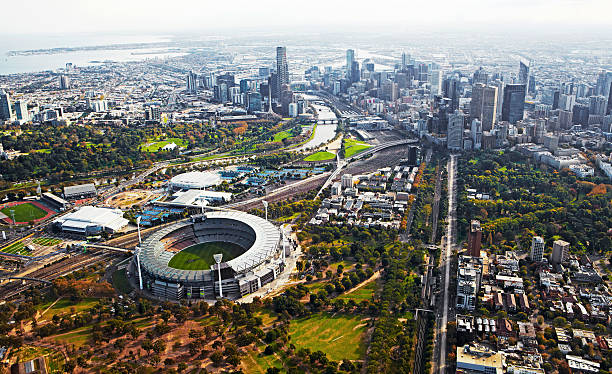 Melbourne is a food lover's paradise, with an impressive selection of world-class dining options that cater to all palates. From casual cafes to trendy bistros, this cosmopolitan city has it all.
However, for those seeking an extraordinary culinary experience, Melbourne also boasts some of the most exclusive and expensive restaurants in the world.
In this article, we'll take a closer look at these exclusive dining destinations and what makes them worth the splurge. From Michelin-starred chefs to exquisite menus featuring the finest ingredients, these restaurants offer a luxurious dining experience that's second to none.
We'll explore the unique features of each restaurant, including their signature dishes, atmosphere, and pricing. Additionally, we'll provide practical tips on how to make a reservation and what to expect in terms of dress code and etiquette.
So, whether you're a seasoned foodie or a curious traveller, join us as we uncover the most expensive restaurants in Melbourne and prepare to be blown away by their luxurious offerings.
Most Expensive Restaurants in Melbourne
1. Dinner By Heston
Dinner By Heston is one of the most expensive restaurants in Melbourne, known for its unique and elegant dishes. This fancy eatery offers a memorable experience that combines science with culinary art.
The famous British chef, Hestoverallon Blumenthal, has designed a menu inspired by historic recipes dating back to the 14th century. Some of the must-try items on their menu include "Meat Fruit" and "Tipsy Cake."
With an upscale atmosphere and stunning views of the Yarra River, it's no surprise that this restaurant is popular among food lovers seeking luxury dining experiences.
2. Attica
Attica is another high-priced restaurant in Melbourne that has earned a reputation for its innovative dishes and exceptional service. The head chef, Ben Shewry, combines his New Zealand roots with Australian ingredients to create a menu full of unique flavours.
This celebrated eatery offers an 11-course tasting menu that changes seasonally to showcase the freshest local produce. From their flavorful salted red kangaroo dish to the delicate pikelet dessert, every course will leave you amazed at the creativity put into each plate.
Attica's elegant decor and intimate atmosphere make it perfect for special occasions or simply indulging in a luxurious dining experience. Due to its popularity, reservations are recommended well in advance.
Dining at Attica might be expensive, but the unforgettable tastes and attentive staff ensure a memorable evening for guests who value top-quality food and outstanding service.
3. Vue De Monde
Vue De Monde stands out as one of Melbourne's priciest and most prestigious dining spots. Located on the 55th floor of the Rialto building, this restaurant offers breathtaking panoramic views of the city, allowing guests to dine in style while admiring Melbourne's skyline.
The renowned chef Shannon Bennett has meticulously crafted a menu that showcases modern Australian cuisine with an emphasis on native ingredients.
Guests can expect a tailored degustation menu featuring dishes such as smoked eel, wallaby, and sumptuous desserts that incorporate indigenous flavours like wattleseed and finger limes. Vue De Monde also boasts an impressive wine list sourced from boutique wineries across Australia and beyond.
Apart from its top-notch culinary creations, Vue De Monde provides exceptional service to ensure guests have an unforgettable experience.
4. Brae
Brae, located just outside of Melbourne in the picturesque town of Birregurra, is a high-end restaurant that has earned its place among the most expensive establishments in the area.
The acclaimed Chef Dan Hunter takes pride in offering guests an unforgettable farm-to-table dining experience. At Brae, the menu revolves around fresh ingredients from their on-site organic garden, ensuring each dish highlights seasonal flavors and local produce.
Guests can indulge in a multi-course degustation menu featuring inventive dishes like parsnip custard with truffle and apple-marinated quail. These culinary masterpieces are complemented by an extensive wine list showcasing both Australian and international selections.
The serene atmosphere at Brae adds to its appeal, with beautiful views of the surrounding countryside providing a tranquil setting for fine dining.
5. Lûmé
Lûmé is an exclusive restaurant in Melbourne, known for its innovative and artistic approach to food. Chefs Shaun Quade and John-Paul Fiechtner have earned recognition by creating a menu that pushes boundaries while tantalizing the taste buds of their guests.
This luxurious dining destination offers a set degustation menu featuring 13 delectable courses that showcase exciting flavour combinations and stunning presentations.
Some noteworthy dishes at Lûmé include the pearl on the ocean floor, which features a delicate seafood medley in an edible shell, and adventurous desserts like Vegemite ice cream.
To enhance your dining experience further, consider pairing each course with expertly chosen wines from their eclectic selection. The sophisticated atmosphere at Lûmé caters to those seeking more than just a meal but rather an immersive culinary journey.
6. Flower Drum
Flower Drum is a prestigious and high-priced Chinese restaurant in Melbourne, renowned for its exquisite Cantonese cuisine and top-quality service.
Since opening its doors in 1975, this iconic establishment has been delighting guests with an enticing menu that features both traditional Chinese dishes and contemporary creations using the finest local ingredients.
Popular favourites at Flower Drum include the Peking duck, which is expertly prepared by skilled chefs, as well as luxurious seafood options like abalone and lobster noodles.
The refined atmosphere of the restaurant, complete with elegant decor and attentive staff, ensures a memorable dining experience for all who visit.
Located in Melbourne's bustling Chinatown district, Flower Drum may be expensive compared to other nearby eateries; however, the sumptuous food and exceptional service make it worth every cent.
7. Ezard
Ezard is a high-end restaurant in Melbourne, famous for its fusion of contemporary Australian flavours with Asian influences. The skilled and creative chef Teage Ezard has designed an exquisite menu that impresses food enthusiasts with its inventive dishes and expertly balanced tastes.
Offering a la carte options as well as degustation menus, this luxurious eatery caters to different preferences while maintaining consistent quality.
Some standout dishes at Ezard include seared tuna with green papaya salad, oysters topped with yuzu granita, and slow-cooked Szechuan pork shoulder. To complete your dining experience, select from their extensive range of fine wines sourced locally and internationally.
8. Press Club
Press Club is a stylish and pricey Greek-inspired restaurant located in Melbourne's central business district. Owned by famous chef George Calombaris, this upscale eatery is celebrated for its modern take on Mediterranean cuisine, blending traditional flavours with contemporary techniques. The restaurant offers an intimate dining experience, featuring unique décor and comfortable seating.
Guests at Press Club can choose from a la carte options or indulge in one of their multiple-course degustation menus that showcase the chef's culinary talent.
Some popular dishes include prawn moussaka, lamb shoulder with smoked feta, and delectable desserts such as broken baklava. An impressive wine list complements these scrumptious meals, featuring handpicked selections from Greece and around the world.
9. Estelle By Scott Pickett
Estelle By Scott Pickett, often referred to as ESP, is among Melbourne's most expensive and distinguished restaurants. Situated in the trendy suburb of Northcote, this stylish eatery offers a sophisticated dining experience with an emphasis on creativity and quality.
The renowned chef Scott Pickett showcases his passion for modern Australian cuisine through innovative dishes that utilize fresh local ingredients.
At ESP, guests can enjoy a choice between five or seven-course tasting menus featuring mouth-watering dishes such as Western Plains pork belly with black pudding brioche, or aged duck breast paired with beetroot and capers.
To further elevate the culinary journey, opt for their expertly matched wine pairings from the carefully curated list. The restaurant's chic ambience seamlessly blends contemporary design elements with cozy furnishings to create an elegant yet welcoming atmosphere.
10. Minamishima
Minamishima is an exclusive and high-priced Japanese restaurant in Melbourne, where guests can savour the art of traditional sushi prepared by master chef Koichi Minamishima.
This luxurious dining experience focuses on omakase, a Japanese culinary concept that leaves the menu selection entirely up to the skilled sushi chef. With only 12 seats available at the intimate sushi counter, patrons have a unique opportunity to witness the chef's expert craftsmanship up close.
Using only premium ingredients sourced from Australia and Japan, Chef Minamishima meticulously prepares each dish with precision and elegance. Some highlights may include melt-in-your-mouth tuna belly or delicately seasoned sea urchin.
The impressive sake list features numerous options for pairing with your meal, catering to varying tastes and preferences. Reservations are highly recommended due to the limited seating capacity at this upscale establishment.