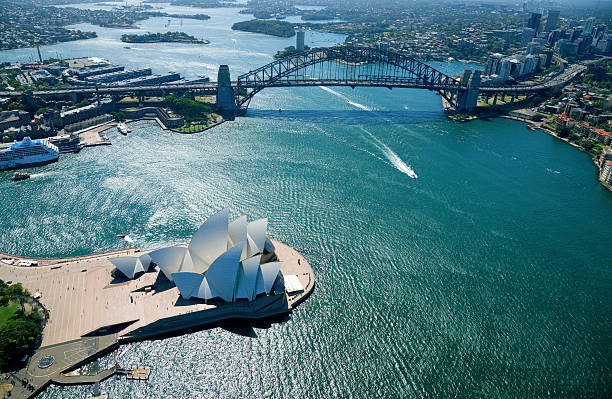 If you're a food lover visiting Sydney, you must have a taste of the city's culinary excellence. From street food to five-star dining, Sydney has a lot to offer to your taste buds.
But if you're looking for a luxurious dining experience and don't mind spending some extra dollars, you can try out the most expensive restaurants in Sydney. These restaurants offer delicious food, an extravagant ambience, and exceptional service.
In this blog post, we'll explore the most expensive restaurants in Sydney and what makes them stand out. We'll cover their signature dishes, decor, and pricing so that you can decide where to splurge on your next special occasion or romantic dinner.
Whether you're a foodie, a traveller, or a local looking for a fine-dining experience, our guide to the most expensive restaurants in Sydney will help you plan your next luxurious meal. So, get ready to indulge in a culinary adventure like no other!
Most Expensive Restaurants in Sydney
1. Aria Restaurant Sydney
Aria Restaurant Sydney is a high-end dining spot where Chef Matt Moran creates delicious Modern Australian cuisine. The elegant glass-walled dining room gives an amazing view of the Sydney Opera House and Harbour Bridge.
The menu at Aria offers dishes made with the finest seasonal produce, making every meal an unforgettable experience. This restaurant is perfect for special occasions or just enjoying a luxurious night out with friends and family.
With top-notch service and superb food, you'll definitely feel the value of the $190 price tag. So next time you plan a fancy dinner in Sydney, make sure to consider Aria for an exceptional dining adventure.
2. Tetsuya's Restaurant
Tetsuya's Restaurant is a renowned fine dining destination in Sydney, offering an exquisite French-Asian tasting menu. Set in an art-filled house with a beautiful Japanese garden view, this restaurant provides a serene and unique atmosphere.
The menu at Tetsuya's revolves around natural seasonal flavours, enhanced by classic French techniques to give you the most delightful dishes.
With prices starting at $285, it might be considered expensive, but the top-quality food and exceptional service make it worth every penny.
3. Quay Restaurant
Quay Restaurant is one of Australia's most celebrated dining establishments, known for its three-hat rating in the Good Food Guide for 21 consecutive years.
Created by the Fink Group and Executive Chef Peter Gilmore, Quay offers a unique culinary experience inspired by nature. The stunning interior design reflects textures and colours that are reminiscent of the Australian landscape and ocean.
With prices starting at $260, you can expect an exceptional meal crafted using only the freshest ingredients that celebrate local produce.
4. Rockpool Bar & Grill
Rockpool Bar & Grill is a sophisticated restaurant located in Sydney, famous for its perfectly wood-fired grilled meats and seafood. Housed in an ornate art deco room, the ambience is enhanced with a cocktail bar and an extensive wine list.
This dining spot offers the finest quality food sourced from Australia's best producers, making every dish delightful and memorable. With prices starting at $650, it might be on the expensive side, but the attentive service and remarkable food make it well worth the cost.
5. Restaurant Hubert
Restaurant Hubert is a place for those who truly love dining out. It offers an enchanting experience that begins with drinks and appetizers in the bar, maybe catching a show, and lingers into the night with cheese and cognac.
This charming restaurant has three bars, a central dining room, private rooms, and even an art-house cinema called Theatre Royale.
The menu at Hubert represents flavours from Paris while embracing global culinary twists like dressing escargots with XO sauce or surrounding duck parfait in maple syrup jelly.
Starting at $150, it's not cheap but well worth it for unforgettable good times! When planning your next big night out in Sydney, make sure to discover everything Restaurant Hubert has to offer!
6. LuMi Dining
LuMi Dining is a cozy and inviting fine dining restaurant in Sydney that's known for its intimate atmosphere created by the fusion of small lights or "lumi" in Italian.
Run by Chef Federico Zanellato and his wife, Sommelier Michela, this charming spot offers a casual yet refined dining experience that won't disappoint.
Since its opening in 2014, LuMi has earned two prestigious Chef Hats from the SMH Good Food Guide and was recognized as the Best Italian Restaurant in the World by Gambero Rosso International.
With prices starting at $255, it might seem expensive, but considering the exceptional flavours and beautiful waterfront location opposite Star Casino at Wharf 10 in Pyrmont, LuMi Dining guarantees an unforgettable culinary journey worth every dollar spent!
7. Bentley Restaurant + Bar
Bentley Restaurant + Bar is a luxurious dining destination in Sydney's CBD, offering upscale Modern Australian cuisine and an acclaimed wine list.
Located within the Radisson Blu Plaza Hotel, this industrial-chic restaurant provides both elegance and comfort while you enjoy Chef Brent Savage's innovative dishes that are expertly paired with boutique wines from Nick Hildebrandt's eclectic selection.
With prices starting at $220, Bentley guarantees an extraordinary dining experience that justifies its cost through exceptional food, attentive service, and a fantastic ambience.
So when considering where to enjoy a special dinner or business lunch in Sydney, be sure to include Bentley Restaurant + Bar on your must-visit list!
8. Bennelong
Bennelong is an exceptional fine dining destination situated in the iconic Sydney Opera House, offering innovative dishes that celebrate Australian cuisine.
With a unique menu crafted by expert chefs, Bennelong delivers an extraordinary culinary experience using fresh and seasonal ingredients sourced from local producers.
The stunning architecture of the restaurant provides a perfect ambience to savour each dish while enjoying the breathtaking views of Bennelong Point.
Prices at Bennelong start at $180, but every dollar spent will be worth it as you indulge in this truly quintessential Sydney dining adventure.
9. Chophouse Sydney
Chophouse Sydney is a high-end steakhouse that offers premium meats in a warm, vintage setting. This restaurant guarantees an exceptional dining experience with mouth-watering dishes crafted by the talented Chef Matt Moran, who emphasizes the use of the finest ingredients available.
The versatile space at Chophouse Sydney is perfect for lunches, dinners, and celebrations alike. Prices begin at $150, making it one of the more expensive options in town; however, you'll find that the superior quality food and outstanding service make your visit well worth every dollar spent.
10. The Gidley
The Gidley is a charming, old-world steakhouse in Sydney where you can enjoy classic fare paired with an extensive wine list.
Located at 161 King St, this upscale venue takes you on a culinary journey back in time with its vintage décor and elegant atmosphere.
The delightful menu offers delicious steaks cooked to perfection alongside scrumptious side dishes that will leave your taste buds craving for more.
Although The Gidley's prices start at $180, the exquisite food and superb service make it worth every penny spent on this unforgettable dining experience.