The most expensive soccer ball is the Adidas Context 21 Pro Olympic Games Ball, priced at $165. As a FIFA Quality Pro-certified ball, it guarantees precision in weight, size, rebound, and water resistance. Its seamless design ensures enhanced aerodynamics and a soft touch for better control during play.
If you're a soccer enthusiast who loves to splurge on luxury soccer equipment, then this blog post is for you. We've scoured the market to find the most expensive soccer balls, and we're going to show you what makes them so special.
In this blog post, we'll cover the unique features and technologies that these expensive soccer balls offer, and how they differ from your typical ball. We'll also discuss the pros and cons of investing in a high-end soccer ball, and whether or not it's worth the extra cost.
So, whether you're a serious player looking to take your game to the next level, or just a soccer fanatic interested in the sport's most luxurious equipment, keep reading to learn about the world's most expensive soccer balls.
Most Expensive Football Balls You Can Buy
Adidas Context 21 Pro Olympic Games Ball
The Adidas Context 21 Pro Olympic Games Ball, priced at $165, holds the prestigious FIFA Quality Pro certification, guaranteeing top-notch quality in aspects like circumference, weight, rebound, and absorption.
This high-end soccer ball boasts a thermally bonded seamless exterior that offers exceptional aerodynamics for a consistent flight path. Players can appreciate its soft touch feel for improved control over those crucial shots.
The butyl bladder works to prevent water absorption while its composition of 70% polyurethane, 20% recycled polyester, and 10% viscose ensures maximum durability.
The Adidas Context 21 Pro presents itself as an ideal partner on the field for players seeking superior performance and longevity in their soccer equipment.
Adidas UCL Pro Pyrostorm Ball
The Adidas UCL Pro Pyrostorm Ball, retailing at $165, holds the distinguished FIFA Quality Pro certification and serves as the official match ball for the esteemed UEFA Champions League.
This exceptional soccer ball is crafted with a 100% polyurethane cover and a butyl bladder to guarantee long-lasting durability, accuracy, and an impressive feel for both feet and hands during gameplay.
Engineered to meet rigorous performance standards expected in matches between Europe's top clubs, its design inspires confidence on the field.
Investing in an Adidas UCL Pro Pyrostorm Ball offers players an authentic piece of equipment that is designed to handle some of Europe's most competitive soccer fixtures while also giving them a sense of accomplishment at this elite level of play.
Nike Premier League Flight
The Nike Premier League Flight, priced around $160, is a product of more than eight years of research and thousands of trials, aimed at taking soccer to new heights with enhanced precision.
Its innovative design features molded grooves that disrupt air movement and reduce drag while providing extra grip for a stable flight even in unpredictable breezes.
This advanced soccer ball offers optimal control in any weather condition, ensuring consistent performance on both wet and dry turf.
With its superior stability and accuracy, the Nike Premier League Flight stands as a game-changer for players seeking equipment that can elevate their performance like never before.
Adidas Uniforia Pro Football
The Adidas Uniforia Pro Football, retailing for around $160, was the official match ball for the UEFA Euro 2020 tournament and symbolizes the unity and joy that soccer brings to people worldwide.
Expertly crafted with a 100% polyester cover and a rubber bladder, this seamless ball ensures optimal performance during gameplay.
This FIFA Quality Pro-certified product not only excels in usage but also complies with high standards established by the governing body concerning inflation.
Owning an Adidas Uniforia Pro Football allows players to experience top-tier quality while celebrating sportsmanship, culture, and unity on the field—all through this elegant piece of sporting equipment.
Nike Flight
The Nike Flight, priced at approximately $160, is one of the most groundbreaking ball designs in Nike's history.
Developed through an extensive 8-year process involving 800 athletes and over 1700 hours of testing data, this soccer ball claims to improve shot accuracy by an astounding 30%.
The revolutionary design achieves greater accuracy by ensuring stable flight patterns and minimized drag—an innovative leap forward compared to their previous flagship model, the Nike Merlin.
Although the exterior may slightly differ from that of the Premier League Flight variant, core mechanics remain largely consistent.
While it comes with a higher price tag, investing in a Nike Flight Ball means embracing state-of-the-art technology for unmatched performance on the field.
Adidas Tiro Pro Ball
The Adidas Tiro Pro Ball, available for just $110, is an excellent choice for soccer players who wish to upgrade from a standard ball.
Constructed with high-quality materials, this professional-grade match ball offers unmatched playability and durability compared to traditional alternatives.
Tested extensively to meet all FIFA guidelines, the same model is used in official professional matches globally. The sleek and stylish design complements its ideal weight and bounces characteristics for optimal control on hard surfaces or turf.
With impressive features and superior performance capabilities offered at a remarkably affordable price point, the Adidas Tiro Pro Ball is perfect for both experienced athletes and casual weekend warriors alike.
Nike Futsal Pro
The Nike Futsal Pro, priced at $40, is a top-choice ball for serious small-sided players. Its textured casing and high-contrast graphics ensure easy identification during matches while adhering to the official size and weight requirements for optimal control.
The hand-sewn seams offer extra durability, proving that this futsal soccer ball can withstand tough play and lead you toward victory game after game.
Combining a robust design with excellent performance characteristics, the Nike Futsal Pro is perfect for those who demand the best from their equipment in fast-paced small-sided soccer matches.
Nike Paris Saint Germain Strike
The Nike Paris Saint Germain Strike, priced at $30, is an exclusive and emblematic soccer ball for ardent supporters of the French club, particularly after Lionel Messi's highly anticipated signing.
Engineered with 12 meticulously designed panels, this ball promises a consistent trajectory with every kick. Its resilient rubber bladder works to stabilize air pressure and maintain shape over time.
While its cost may be slightly higher than budget-friendly options, the Nike PSG Strike Soccer Ball connects devoted fans to their favorite team through its ultra-durable construction and subtle yet distinctive branding.
A must-have for passionate Paris Saint Germain followers who value quality in their soccer equipment.
Nike FC Barcelona Strike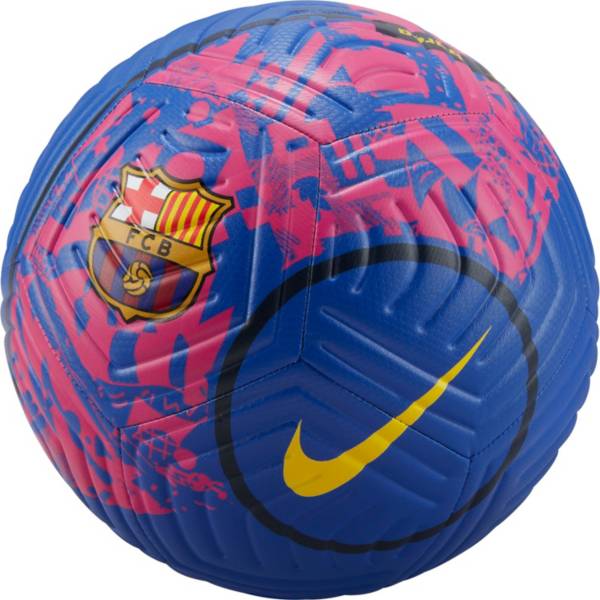 The exclusive Nike FC Barcelona Strike football, available at an affordable price of $30, is a perfect addition for any Barca fan.
Its textured casing enhances feel and grip during play, while Aerow Trac grooves ensure consistent and accurate spin through the air.
With 60% rubber in its construction, complemented by 15% polyurethane, 13% polyester, and 12% EVA, the ball offers long-lasting durability and shape retention.
The Nike FC Barcelona Strike not only showcases support for one of soccer's most iconic clubs but also provides excellent performance on the field.
Adidas Real Madrid Home Club Ball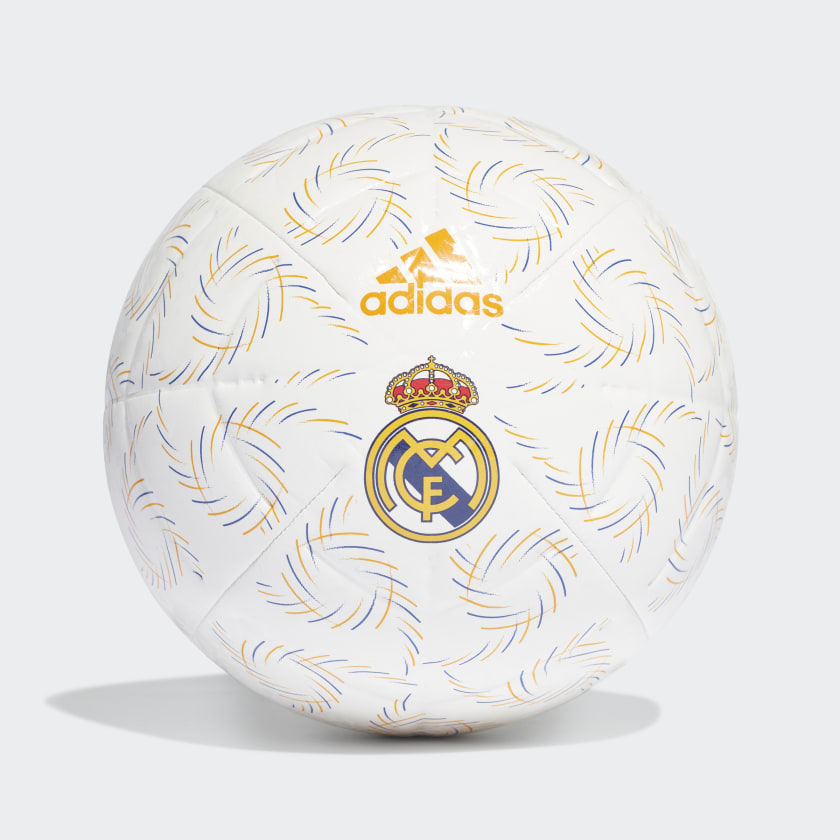 The Adidas Real Madrid Home Club Ball, priced at around $20, is an essential piece of equipment for passionate supporters of the renowned Spanish club.
Featuring a 100% thermoplastic polyurethane cover and machine-stitched reinforcement for increased durability, this soccer ball also has a rubber bladder to enhance performance on the field.
Although it may require inflation upon receiving it, the thrill of owning and playing with this exclusive ball is worth every effort.
Suitable for both collection or gameplay purposes, the Adidas Real Madrid Home Club Ball boasts quality craftsmanship that mirrors the prestigious legacy of one of soccer's most beloved teams.