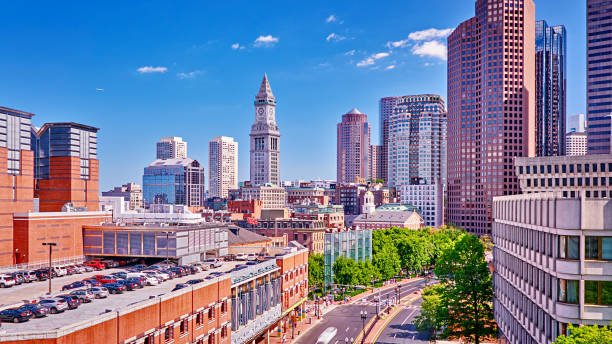 Are you interested in learning about the lifestyles of those who can afford these lavish homes? Or perhaps you're considering relocating to one of these upscale areas yourself?
Whatever your reason for reading, our easy-to-understand guide has got you covered.
In this article, we'll unveil a list of select towns known not only for their high property prices but also their exceptional schools, picturesque downtowns, and stunning parks – perfect for families and individuals alike.
So sit back, relax, and join us as we explore the wonders that await within these affluent Massachusetts communities!
Most Expensive Places to Live in Massachusetts
1. Weston
Weston is one of the most expensive towns in Massachusetts, with many luxurious homes and a small population of around 11,000 people. The average house price in Weston is a staggering $2M, making it an exclusive place to live for those who can afford it.
One reason for this high cost is the town's close proximity to Boston, which attracts professionals who want a peaceful suburban atmosphere while working in the city.
Another factor contributing to its expensiveness: is top-notch schools that provide an excellent education for children. Safety plays another role because crime rates are low in Weston.
Visitors will find upscale shopping centers and restaurants offering even more appeal for affluent residents seeking convenience and elegance close to home.
2. Wellesley
Wellesley is well-known for its prestigious and expensive reputation in Massachusetts. With a median house price of about $1.8M, living in this charming town comes at a high cost.
One main reason behind this steep pricing is the exceptional quality of education provided by its public schools that are considered some of the best in the state.
The proximity to Boston makes Wellesley an attractive place for those working downtown yet craving suburban life, leading to a higher demand for housing.
This growing demand drives up prices further. In addition to top-ranking schools, Wellesley offers many exciting entertainment options with numerous shopping centers and fine dining restaurants available within the area, creating an upscale environment for residents who can afford it.
3. Dover
Dover, a small yet pricey town in Massachusetts, boasts a median home price of around $1.5M. With its population slightly exceeding 2,500 people, this desirable community is located within Middlesex County and is part of the bustling Boston metropolitan area.
Top professionals working in Boston often choose Dover as their place to live due to its excellent schools and secure neighborhoods. The town's location, just 20 miles south of the city center, makes it ideal for commuters seeking both convenience and tranquility away from urban life.
However, this high demand results in increased housing costs and limited affordable options for residents who face steep rents. Despite the expenses involved in living in Dover, many appreciate the exceptional quality of life it offers through various shops and restaurants catering to an upscale lifestyle.
4. Lexington
Lexington, a town in Massachusetts with an expensive reputation, has a median home value of more than $1.5M. This high cost is partly due to the fact that it sits so close to Boston and offers excellent public schools.
Living in Lexington means being part of a community that values education and invests heavily in its children's futures. Aside from its top-rated schools, this town features numerous high-end restaurants contributing further to its exclusive status.
Despite the costly nature of living here, many families still consider Lexington an ideal place for settling down because it provides exceptional quality of life with low crime rates and stylish amenities catering to various interests such as shopping centers and recreational areas where residents can unwind after their busy schedules.
5. Newton
Newton is a town in Massachusetts known for its expensive housing market, with average home prices hovering around $1.4M. This high cost is influenced by several factors, including the proximity to Boston and excellent schools.
Many people working in the city choose Newton as their residence because of the town's convenience and top-rated education systems. Safety also plays a critical role, making it ideal for families who value peace of mind and secure neighborhoods.
On top of that, Newton houses many prestigious companies offering high-paying jobs which attract residents with higher incomes, thus driving up living costs even more.
Despite these expenses, those who can afford life in Newton enjoy various amenities such as parks, shops, and restaurants – all contributing to an upscale lifestyle while living near the vibrant city of Boston.
6. Winchester
Winchester, a town in Massachusetts, is recognized for being one of the most expensive and luxurious places to live. The median household income here exceeds $173K, which displays the community's affluence.
One reason for Winchester's high cost of living stems from its property taxes; with an average rate of about $0.93 per $100 assessed value, it ranks among the highest in the state.
Another cause behind soaring housing prices – hovering around $1M – is its desirable location within the Boston metropolitan area. Families are drawn to Winchester due to highly-rated schools and attractive amenities such as shops and eateries that cater to various tastes.
Those who can manage the expenses associated with life in this town, they'll be rewarded with an upscale lifestyle and access to countless opportunities in nearby Boston.
7. Lincoln
Lincoln is a luxurious and expensive town in Massachusetts, attracting some of Boston's wealthiest residents. The high demand for real estate combined with limited land available for development leads to increased property prices in this upscale community.
Aside from its proximity to the city, Lincoln is home to excellent schools, making it an attractive place for families with children seeking top-notch education.
The town provides numerous leisure amenities such as golf courses and country clubs which residents often enjoy during their free time.
Although the cost of living here might be steep, people who can afford life in Lincoln will find a serene atmosphere surrounded by picturesque landscapes while still staying connected to the bustling city nearby.
8. Brookline
Brookline, situated near the heart of Massachusetts, is known for its expensive real estate and high cost of living. With a median home value of around $1.2M and median rent reaching over $4,000 per month, this town caters to wealthy families seeking an upscale lifestyle.
One reason behind Brookline's pricey nature lies in the scarcity of developable land that drives up property values due to limited supply and high demand.
This community also boasts some of the best public schools in the state while being close to Boston – factors attracting families who wish to raise their children with quality education nearby city life opportunities.
In addition to superior schooling options, Brookline features numerous private institutions that cater further towards luxurious living, contributing significantly to its overall prestige.
9. Concord
Concord, a picturesque town in Massachusetts, is famous for its historical significance and expensive real estate. The median home price here reaches around $1.3M, while the average household income exceeds $160K.
This high cost of living can be attributed to several factors including its proximity to Boston and an affluent population seeking both convenience and charm in their place of residence.
Concord's excellent school system adds more appeal for families with children looking for top-quality education nearby. Another contributing factor to its steep prices is the vast array of attractive amenities such as shops, restaurants, and parks which provide residents with leisure options after a busy day at work or school.
For retirees and tourists drawn to this culturally rich town that offers an exceptional quality of life despite high living costs, Concord remains a popular choice.
10. Boston
Boston, Massachusetts' capital and largest city in New England is not only famous as a historic American city but also for its expensive cost of living.
The median home value here is roughly $824K, nearly twice the state median of $587K. In addition to pricey housing, Boston's median rent soars around $2,500 per month.
Several factors contribute to these steep prices: firstly, being situated on the coast makes it a highly demanded place to live; secondly, its robust economy with major corporations like Fidelity Investments and State Street Corporation supplying well-paying jobs
Thirdly, renowned schools such as Harvard University and MIT draw students internationally; finally, Boston's rich history and plentiful cultural attractions lure tourists worldwide throughout the year.
Though living expenses might be high in this bustling metropolis, residents enjoy an unparalleled urban experience encompassing enriching education options, an exciting arts scene, and fine dining establishments alongside picturesque waterfront views.