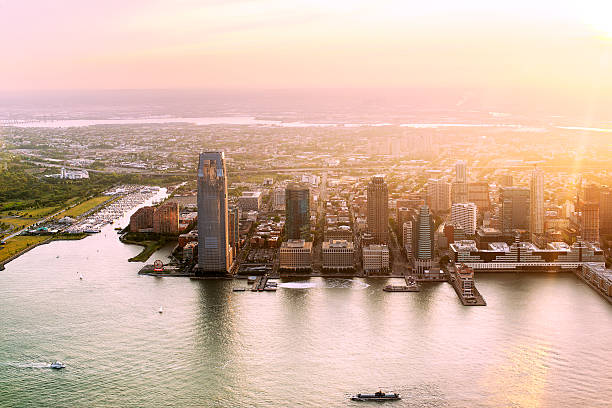 If you're looking to settle down in a thriving and affluent community in New Jersey, then you're in luck. The Garden State boasts some of the wealthiest cities in the country, providing residents with access to exceptional schools, top-rated healthcare facilities, and an array of cultural and recreational opportunities.
But with so many options to choose from, how do you know which city is right for you?
In this article, we'll take a closer look at the wealthiest cities in New Jersey, providing you with essential information that can help you make an informed decision.
We'll explore the factors that contribute to a city's affluence, such as median household income, home values, and education levels. You'll learn about the various amenities and attractions that make these cities stand out, as well as their unique character and charm.
By the end of this article, you'll have a better understanding of the top cities in New Jersey and be well-equipped to find the perfect place to call home.
Richest Cities in New Jersey
1. Short Hills
Short Hills is a top city in New Jersey when it comes to wealth and luxury. Located just 43 minutes away from New York City, this attractive town is perfect for families and retirees alike.
With a population of 13,700 people, the average age here is around 44 years old. The impressive median household income of $250,001 proves that Short Hills residents live an upscale lifestyle.
Owning a house here often means spacious homes with high-quality amenities since the median home value is estimated at $1,772,000.
Living in Short Hills offers safety and prosperity to its residents while letting them enjoy access to nearby major cities for work or entertainment.
2. Mountain Lakes
Mountain Lakes is a beautiful and wealthy small town in Morris County, New Jersey. It has an estimated population of 4,200 people who enjoy the peace and quiet that this cozy borough has to offer.
Excellent schools, friendly locals, and engaging activities make Mountain Lakes an ideal place for families to call home. The remarkable median household income stands at $241,000, while the median home value sits at $867,000.
One of the best things about living in Mountain Lakes is its close proximity to two major cities – New York and Philadelphia. This perfect location allows residents to access urban entertainment without sacrificing their tranquil lifestyle in this charming community.
3. Ho Ho Kus
Ho Ho Kus is a dazzling town that holds the key to an opulent and comfortable life in New Jersey. This amazing place provides luxurious dwelling options for potential homeowners, with a generous median household income of $230,000 and an eye-catching median listing price of $916,000.
The safety levels in this town are high due to low crime rates and a lower-than-average unemployment rate at 7.4%. Ho Ho Kus also offers plenty of activities for people of all ages; residents can enjoy parks, recreational facilities, and delicious dining options available nearby.
Plus, convenient access to major highways and public transportation makes it even more attractive for those looking to settle down in comfort and style.
4. Rumson
Rumson is an enchanting town in New Jersey with a strong community that values luxury and comfort. Home to beautifully designed houses by world-famous architects, pristine beaches, and picturesque parks, Rumson makes for an idyllic place to live.
The median household income of $222,000 reflects the affluent lives its residents lead. In this charming town, homes have a remarkable median value of $1,714,000.
Positioned close to Long Branch and New York City, there's always something fun happening nearby for both kids and adults in this lovely locale.
Across its 6.5 miles along the Monmouth County coast, surrounded by coastal breezes year-round; Rumson offers more than just wealth – it promises an exceptional lifestyle experience.
5. Essex Fells
Essex Fells is a delightful town in New Jersey that perfectly balances suburban luxuries with a touch of city life. With its impressive median household income of $215,104 and a notable median home value of $1,164,000, Essex Fells stands as one of the richest towns in the state.
Living here provides access to all the world-famous attractions Manhattan has to offer while maintaining a serene family environment at home.
Top-notch schools make it an ideal place for raising children who can fully tap into nearby opportunities for learning and growth. In Essex Fells, residents enjoy both peace and privacy along with lively community activities that make life truly enjoyable.
6. Glen Ridge
Glen Ridge, a small community in New Jersey with about 7,547 residents, offers an ideal environment for families. This town takes pride in its high-quality schools and low crime rates, which are appealing to those looking to settle down.
Local family-run businesses, professional practices, and delightful restaurants can be found within the area – there's no need to travel far for necessities!
During summer Wednesdays at Memorial Park, a charming farmer's market brings people together as they discover fresh produce while engaging in friendly conversations.
Glen Ridge is not just a place for raising children; it offers a welcoming atmosphere where memories are made and cherished together.
7. Little Silver
Little Silver, a wealthy town in New Jersey, boasts an affluent community with a close-knit atmosphere. The median household income here is $202,875, while the average home value stands at $839,000.
Nestled along the Shrewsbury River, Little Silver's picturesque scenery draws people from far and wide. Being recognized by Money Magazine as one of America's best places to live speaks volumes about its quality of life.
Local schools are highly rated with plenty of extracurricular activities for children, making it perfect for families looking to grow together.
With various dining options and shopping centers nearby, residents can easily enjoy their leisure time without having to venture far from their beautiful hometown.
8. Chatham
Chatham is a splendid town in New Jersey, known for its wealth and family-friendly atmosphere. With a median household income of $201,000 and an average home value of $1,061,000, Chatham provides comfort and luxury.
The town is committed to nurturing young minds through its excellent school system that offers various resources for students to excel. Outside the classroom, children can engage in many sports teams, music programs, and other clubs offered within the community.
Chatham also boasts plenty of outdoor activities such as parks with playgrounds for kids while walking trails make great spots for tranquil strolls or picnics on summer days.
Shopping centers within the town provide convenience in finding essential supplies without straying far from this enchanting place called home.
9. Montgomery
Montgomery is a stunning town located in Somerset County, New Jersey. Known for its affluence and attractive small-town vibe, the median household income is an impressive $200,000, while the average home value is about $767,000.
With a population of just under 23,000 people, this charming community offers both modern amenities and traditional appeal.
The streets are adorned with graceful oak trees accented by lovely floral blooms that evoke warmth and unity among residents living in Victorian-style homes.
Montgomery boasts various parks like Black River Park where families can hike trails or enjoy picnics together during weekends.
Its proximity to New York City provides an excellent balance between relaxation and urban excitement – making Montgomery a true gem of New Jersey.
10. Fair Haven
Fair Haven is a captivating small town in Monmouth County, New Jersey, with a population of around 5,800 people.
This lovely location provides housing options for everyone – from single-family homes to condos and apartments – all within an affordable budget thanks to the median home price of $1,097,000.
Local restaurants, shops, and parks create a vibrant atmosphere that encourages exploration and enjoyment among its residents. With convenient access to public transportation or nearby towns, getting around is easy and stress-free.
Fair Haven's beautiful surroundings and friendly community make it an ideal place to live for families who value quality time spent outdoors enjoying each other's company during warm summer days or crisp winter evenings.